Vacation in Northern Germany
August started as June and July had ended: stressful and with an immense amount of work. However, knowing that we would go on vacation from August 7 for a week motivated me to put in all my remaining energy to finish all my tasks until then.
On Saturday, August 7, we (that is: me, my boys and my partner) started our journey in the early morning hours to arrive 11 hours later (traffic was a bit slow) in the very heart of East Friesland. I had booked an apartment for the week and from the minute we arrived I felt myself relax.
We were up and about every day, exploring the wonderful landscape, the picturesque harbour towns and windmills. We enjoyed long afternoons at the sea, swimming, wading in the mud flats and just sitting on the beach, watching this incredibly beautiful world heritage side and breathing in the wonderful sea air.
For the first time in years, I allowed myself to relax again, at least for this one week. Or so I thought…
17th birthday of my eldest
A few days after we had arrived back home from our holiday, my eldest son celebrated his 17th birthday.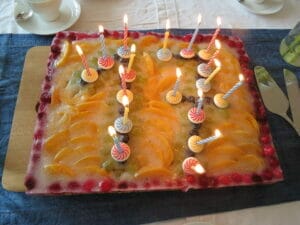 Good lord! Only one year to go and he'll be legally of age. Next week, he'll be registering for driving course. Where has the time gone? It's seven years now that I am single mom and although I sometimes want to hold my sons' childhood for a little bit longer, I'm also very proud to see them turn into wonderful, empathetic, handsome – well, "men" would be too much a term at that point. Let's just say "advanced teenagers". 😉 (Hope, they won't read this article… 😬)
Selfcare isn't selfish
As I said earlier, I had planned to take a break from work for the one week we went on vacation. Afterwards, I wanted to dive deep into research again for new blog articles, videos, diction topics etc.
But: I couldn't. Already during our vacation I had realized that I was more exhausted than I had thought. Back home again, I continued to do coaching lessons which always energize me. In some lessons, I could even witness wonderful breakthroughs and as usual I enjoyed it a lot to work with "my" singers.
Although I had no trouble whatsoever in preparing lessons, concentrating on creating new content simply didn't work.
My mind was exhausted and all my usual coping methods (willpower, coffee,…) didn't help. I went through the whole emotional rollercoaster: fear, panic, disgust, depression.
After a time of drama, I decided to accept my situation and give myself the time I needed to recover.
This immediately took a lot of pressure from me.
During the last weeks, then, I "learned" self-care. I read a lot, I went running, exercised moderately, adjusted my diet, gave coaching lessons and enjoyed being with my family. It was bliss! It felt a bit like those long summer holidays when days seem to be endless and there's nothing to do but enjoy life. I felt my body become strong and my mind clear again. My energy level raised and finally creativity waltzed in again, full of motivation and ready to rumble. 😄
Thus, my epiphany this summer was that self-care isn't selfish but necessary. In fact, it's the number one task to perform every single day. If we don't care for ourselves, we can't be fully there for others. I know I sound like a self-help book, but it took me until this summer to realize the truth in it and I'll make sure to never forget it again.